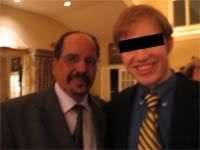 Polisario Confidential
, the anti-Western Sahara blog run by a Moroccan spy agency, is finally paying me back for
all the love
I've shown them
. They used the above picture in
a post
(
translated
) about SADR president Mohammed Abdelaziz meeting image consultants in New York City.
You might think the charmer on the right is some big New York mover-shaker, but it's actually me. They used a picture from
when I met Abdelaziz
last year, and Alle
caught them
. One imagines Polisario Confidential's thought process went like this:
Q:Where can we find a picture of Abdelaziz with a white guy?
A: One Hump or Two!

The whole thing's a treat, and I have to thank Polisario Confidential for brightening my day.
I wasn't in New York City for that picture, but I will be there next week for the United Nations IV Committee. If you're going to be around Tuesday or Wednesday, send me an email and we'll hang out.