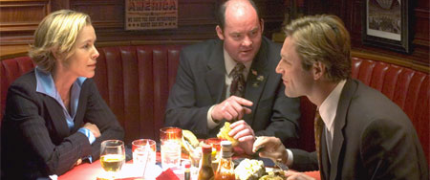 Turns out Moroccan lobbyist and former ambassador Edward Gabriel is
married
to another lobbyist with just as little concern for human welfare: Kathleen "Buffy" Linehan, a lobbyist for tobacco company Phillip Morris:
In 1992, as head of Philip Morris's lobbying group, she was deposed in a lawsuit against B.J. Reynolds Tobacco (KUEPER v. R.J. REYNOLDS TOBACCO CO). Sourcewatch, a project of the Center for Media and Democracy, comments about her deposition: "…

Linehan indicated that she was involved in lobbying against the banning of smoking on commercial aircraft

, and that she does not consider the health consequences of the product she is lobbying (cigarettes)." And at another deposition in 1995, Sourcewatch adds that "

Linehan stated that she did not believe that cigarette smoking is addictive.

"

It's sweet when two people with so much in common can find each other. For bonus Ed Gabriel fun, check out the
foreign lobbyist registration form
(PDF) his company, the Gabriel Company LLC, filed to work for Morocco. The surprise is that Gabriel doesn't get paid:
Registrant will provide advice on an informal unpaid basis to Morocco. Registrant will be reimbursed by foreign principal for out-of-pocket expenses.

Huh. Maybe he's doing his high school service project.