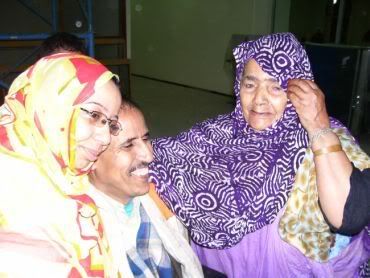 The indispensable Norwegian Committee for Western Sahara has
more information and pictures
of the
wheelchair-bound Sahrawi
visiting his family in the occupied territories who was only allowed to visit them for 4 minutes. According to the Committee, Yarba Mahfud Mohamed's visit was cut short because he refuses to renounce Western Saharan independence:
On arrival in El Aauin, I was stopped because I had not signed a declaration that the Moroccan authorities had given me, and which they said was required to obtain permission to enter the country: "

I am a Sahrawi who is returning home in order to beg the king's forgiveness

," it said. After checking the general situation, with plainclothes policemen, and on the basis of the degrading manner in which they treated me, I understood that I only had one alternative: to return to Spain. The worst part was to see my loved ones there behind a dirty glass wall, without being able to being able to do anything.
He says at one point they took his wheelchair away so he couldn't even move. Mohamed makes exactly the point Morocco is missing--treating Sahrawis like this only gives them more reason to find the status quo untenable.