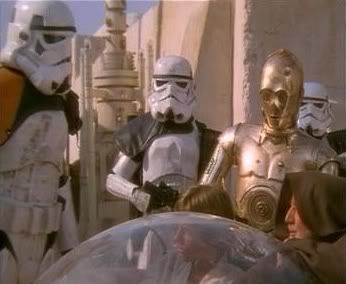 Four Americans traveling around the world
came to Western Sahara
and discovered an unfortunate fact of life for visitors there: checkpoints. According to our intrepid explorers, they were pulled over eight times in one day, and learned that if you don't make friends with the guards they'll let you through faster. Good to remember for my eventual, oft-thwarted trip to the southern provinces.
Check out
this dynamite picture
from one of their involuntary pitstops. 4 Americans, a Moroccan soldier who looks so serious I thought he was kidding, a portrait of MVI, and a riot baton hidden behind the picture.
I'm surprised they made it through the checkpoints alive considering how little they seem to have no idea about Western Sahara:
Here in the Western Sahara

semi-autonomous, free administered territory UN controlled Moroccan owned rebel occupied

landmine danger zone surf resort area of the globe, it is really difficult to really tell what is going on.
I don't know what "free administered" means, but (besides Erik Jensen's warlord phase) I don't think Western Sahara has ever been UN occupied.