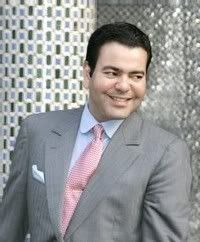 "Thanks, Zuckerberg!"


Poor Moulay Rachid,
Prince of Hearts
. His brother gets to do all the fun stuff like kick Driss Basri out of the country and order journalists murdered, while
he's stuck watching stupid art movies
. Now comes the news that a Moroccan man was
arrested for making a fake Facebook profile
for Moulay. A crown prince can't catch a break in this country:
Rabat, Feb. 6 - Moroccan security authorities arrested on Wednesday an engineer for allegedly stealing the identity of King Mohammed VI's younger brother, Prince Moulay Rachid, on the Internet site Facebook, police sources reported.

Twenty-six-year-old Fouad Mourtada, single, was

arrested in Casablanca over villainous practices linked to the alleged theft of the identity of the price.



It is worth mentioning that members of the royal family have neither web sites nor blogs, and the only official way to obtain information about them was through the portal of the Maghreb Arab press Agency (MAP-national).

I don't think "villainous practices" means much coming from a man who hasn't done anything to stop his family business of robbing and beating Sahrawis. Moulay's not as culpable as his brother, but he has to know where he gets enough money for all the orphanages he inaugurates. If he can live with that, why does a Facebook profile stick in his craw?