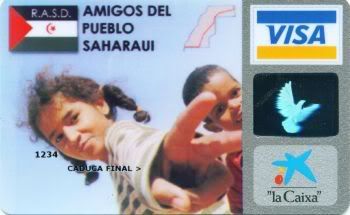 la Caixa, a Spanish bank, has released a SADR-themed credit card. I guess Western Sahara is so popular in Spain it's considered a good business move to associate yourself with it. la Caixa does a lot of charity work, according to Wikipedia, which makes me wonder if a certain amount of money on the card goes to Sahrawi groups.
It hit me on the head lately that the Western Sahara scene in Spain is huge, but I wasn't in contact with any Spaniards. That's been solved, thanks to the indispensable people at
ARSO
. With luck, soon I'll be telling you about their exploits and their
tapas
recipes.
Via the
Norwegian Support Commitee