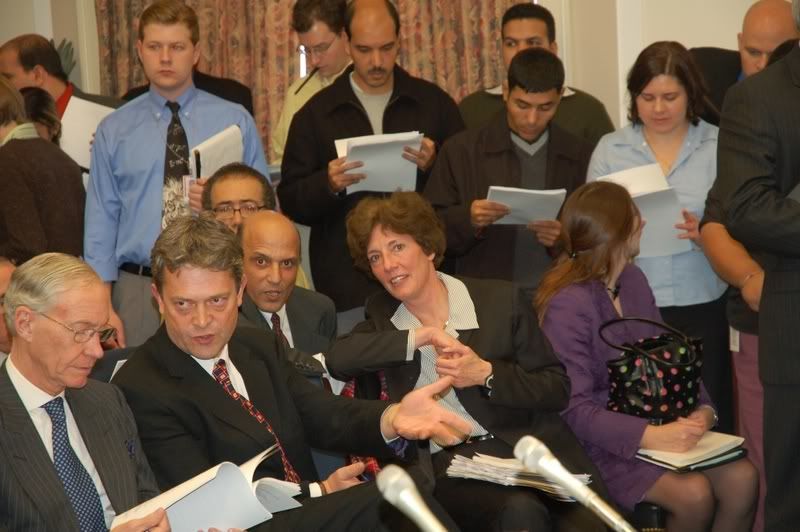 We already knew that the people behind
Morocco Board
, the Moroccan-American community website,
love blogs
. But did you know that they also love digital photography?
The one at left was taken at the
Congressional hearing on Western Sahara
. Check out Toby Shelley doing his best Chris Hitchens impressions while SADR ambassador to the UN Mouloud Said and US-Western Sahara Foundation director Suzanne Scholte wave to Morocco Board's photographer. For some reason, the gallery calls it "Western" Sahara, even though I think everyone agrees it's the western side of the Sahara. Ambassador Said comes off looking amazingly shifty: check out
this picture
of him with a manila envelope.
Khalihenna ould Rachid
explaining autonomy pictures
are less fun. The reception afterwards, though, looks like it got pretty wild. Check out Kelly
doing the robot
and
so deep in his cups, he can't keep his head up
. A
protest
held at the Algerian embassy to free the Moroccan POWs isn't as amusing, since they should've been freed, but check out the
dude with the violin
: he brings it everywhere.
For me, these pictures demonstrate what I'm missing for not writing about how much I love autonomy, as if to make me think "If only I had switched when Ambassador Mekouar gave me the chance!" I'm pretty happy
rolling with Sahrawis
, though.