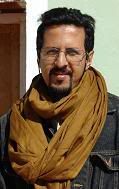 The young women at
Zeina
have a great
interview with Malainin Lakhal
, the secretary-general of
Union of Sahrawi Journalists and Writers
. Malainin has effectively presented the Sahrawi case to the world, especially in Australia and New Zealand (this picture comes from
AWSA
--thanks, my little kookaburras), and this work is well-known. What you might not known is that Malainin is also tough who chose a dangerous flight into exile over submission to Morocco:
"I am initially an activist, a poet and a "trouble-maker" to use the words of the Moroccan authorities when I was living in the occupied zone of Western Sahara. I was born and I lived in the occupied city of El Aaiun until 2000, when I was forced to flee the territory,

crossing the Moroccan military berm in a three days and three nights dangerous journey through the desert and landmines

."
Malainin also tries to persuade angry young Sahrawis to choose non-violence. Blogs, not bombs:
"Many voices within the Saharawi youth start to call for war and resuming war and this is a pity, because to me we had never stopped fighting.
W
e have always been in war against the Moroccan colonialism, the only difference is that we are now using new weapons
, the demonstration, the sit-in, the word, Saharawi political prisoners and activists in the occupied zones are giving their blood and bodies as weapons and sacrifice for the sake of freedom."
They should have an interview with me up soon. Mine may or may not include escapes over minefields.