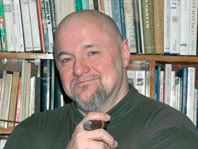 The Western Sahara has been quiet lately, so let's spotlight
Claude Moniquet
, Morocco's lackey in Europe. In late 2005, Claude, pictured here in happier times, sued
Le Journal Hebdomaire
for defamation when they said his suspicious report on Western Sahara might have been financed by the Moroccan government.
Don't let Claude's elfin appearance fool you--he is a very serious scholar. How else could he work for the impressively-named
European Strategic Intelligence and Security Center
? Under the ESISC banner, Claude released a report that tickled the Moroccan government because it backed up everything they'd been saying that no one had believed before. According to Claude, Sahrawi children are sold into Cuban slavery, there was no 2005 intifada, and Che Guevara himself founded Polisario. Best of all, the organization that released it doesn't have Morocco in its name, which is more than the king can say for
certain groups
.
Sidi Omar did a
nice rebuttal
of the ESISC's claims, pointing out that Che Guevara would've had difficulty founding Polisario as he died 6 years before. That wasn't enough for the troublemakers at the Moroccan magazine
Le Journal Hebdomaire
, who wrote a story about Claude's disputed fact-checking. Claude got mad, sued for 3 million dirhams,
and won
.
It didn't hurt that the magazine was harassed by the Moroccan government, or that journalist rights' associations said the magazine's rights were ignored in the trial. Claude won, and that's good enough for the ESISC.
Props to
Western Sahara Endgame
for writing something about this incident last year. I'm in ur blog, followin ur linkz.
What do you think? Do you have stories about Claude Moniquet suing you for saying he's bald, or that he's a merry hobbit?