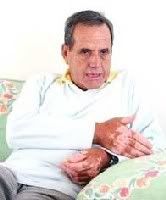 Driss Basri, King Hassan II's Interior Minister and the man behind most of the repression in Western Sahara and Morocco's Years of Lead is
dead in Paris at 69
. He died in Paris because even Mohammed VI found him too repulsive and forced him into exile.
Driss Basri lived to be 69. Here are some people he didn't give that chance:
Sahrawi refugees the Moroccan air force dropped napalm on

Mehdi Ben Barka, an anti-colonial Moroccan politician killed during the Years of Lead

Maybe someone will go on TV and
Hitchens-Falwell him
. He deserves it.