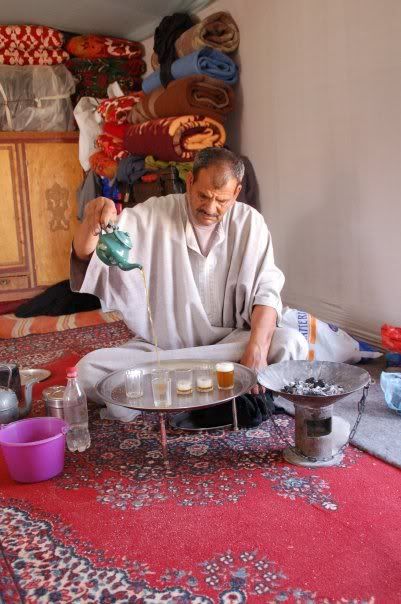 Another day, another blog written by Sahrawi women. This time it's
Zeina
, a blog about Sahrawi culture written by two Sahrawi girls, Mona and Ward. They write about Sahrawi culture and tie it, quite cleverly I think, to the struggle for independence.
I never got the details on
the famed Sahrawi tea ceremony
, but they had an explanation:
One of the greatest features of the Saharawi culture is that of Tea ceremony. It is special and unique to the Saharawi people. It is a time of unity and celebration of happiness. Family members, neighbors, relatives or simply people passing by gather around to chat about everything and nothing and at the same time enjoy a cup of the special tea. The Atay or tea in Hassania the Saharawi native Arabic dialect is three cups and each one represents a different thing. The first cup is bitter as life, the second is sweet as love and the third is soft as love. The tea ceremony can take few minutes to make or can last as long as hours...



As it is said in Arabic: "there is an end to everything", and so it is the time for the Saharawi people to get their share of justice and freedom.

So let's not give to enjoy the last cup of this struggle and the reward of freedom.
I'm looking forward to more explanations of Sahrawi culture. While I'm pretty versed in the politics of Western Sahara, I don't think I know near enough about the culture. Hopefully the ladies at Zeina will remedy that.