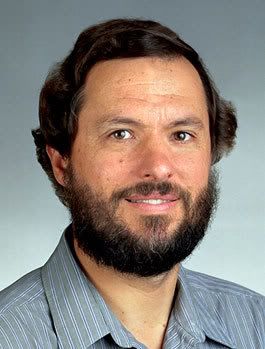 This dashing
fourth
fifth Gibbs brother is Stephen Zunes, Western Sahara scholar and co-author with Jacob Mundy of
Western Sahara: Nationalist and Conflict Irresolution in Northwest Africa
. Why is he smiling? Because he has an excellent new
article
out about the United States's support of the Moroccan autonomy plan!
In the article, Zunes argues that American support for the autonomy plan isn't about a "third way" or a compromise, but a shameless sell-out to Moroccan aggression. He says no country has been allowed to expand by war since World War II and had that expansion recognized by the international community, a standard he fears autonomy would undermine.
Zunes also mentions a depressingly bipartisan list of autonomy supporters. It includes Senate Majority Leader Steny Hoyer, Minority Leader John Boehner and Georgetown's own Madeline Albright. So much for the Democratic takeover meaning more respect for self-determination.
It's not all gloom, though. Zunes recalls the international movement to free East Timor as hope for Western Sahara:
In the comparable case of East Timor, only after human rights organizations, church groups, and other activists forced the U.S. government to end its support for Indonesia's occupation did the Jakarta regime finally offer a referendum that gave the East Timorese their right to self-determination. It may take similar grassroots campaigns to ensure that the United States lives up to its international legal obligations and pressures Morocco to allow the people of Western Sahara to determine their own destiny.

Human rights organizations, church groups, and "other activists"? We've got all three. Now it's just a matter of doing the work.
Western Sahara Info has
more
.