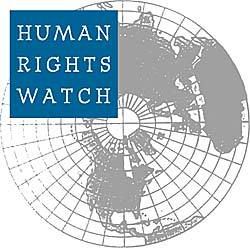 I'm a nominal member of
Amnesty International
, which means I get all the emails and occasionally respond to action alerts but I don't pay the dues like I should. Yesterday, I was asked to take a survey about Amnesty's future priorities.
Part of the survey asked about how I felt about other humanitarian organizations like
Human Rights Watch
, the ONE Campaign, and Oxfam. I rated the latter two favorably, but said I view HRW poorly.
Now, I love human rights ruckus-making as much as the next person, but Human Rights Watch's silence on abuses in the Western Sahara has turned me against them. Look at HRW's
page
on Morocco/Western Sahara--the last Western Sahara-related complaint was written in December 2005.
Since then, a Sahrawi
has died
from poor medical care in prison, the head of a human rights organization has been
sentenced
to two years in prison for doing his job, and pro-independence Sahrawis have been
beaten
. Not one word from Human Rights Watch.
If you doubt the veracity of some of these outrages, that's your right--but we deserve to have human rights NGO's telling us whether they're true or not. Human Rights Watch does itself, its members, and most of all the Sahrawis an injustice by ignoring the repression in Western Sahara.