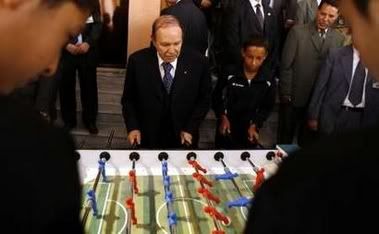 Yesterday was Algerian Independence Day. Hurray for a good people who deserve a better government. I'm often grateful for Algeria's support for Sahrawi self-determination, and I know the Sahrawis are too.
Here's a silly picture of Algeria's president, Abdelaziz Bouteflika, taking a break from supporting Polisario and suppressing criticism with a game of foosball. The picture comes from
Or Does It Explode?
, the king of Middle East-North Africa human rights blog.
Abdelaziz might've needed the break after
the Benchicou Prize
, a press freedom award named after Algerian opposition writer Mohamed Benchicou, was awarded to a murdered Algerian journalist. Here's Western Sahara Info's
take
.
Those informative posts left me wondering, though: "Is Bouteflika tacky enough to slam the foosball poles?"