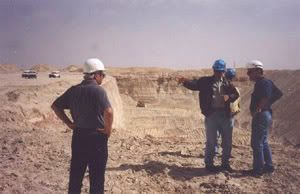 There's disagreement about why Morocco invaded Western Sahara in the first place--was it Greater Morocco nationalism, a lure to keep a restless army occupied, or a distraction from
Hassan II
's domestic problems? One thing is for sure, though--the phosphates from the Bou Craa Mine (pictured) didn't convince anyone to give peace a chance. Since the occupation began Morocco has been trying to peddle its ill-gotten phosphates, despite the best efforts of Polisario fighters and human rights activists.
Now, Norwegians and others are mad at
Gearbulk
, a British-based shipping company, for its role in the illegal phosphate trade. One of Gearbulk's ships, the
Bulk Saturn
, has been transporting phosphates extracted from Western Sahara to New Zealand. Here's
an article
in Norwegian about the controversy, and here's
a video
of the
Bulk Saturn
with its phosphates.
Companies that work with Western Saharan phosphates prolong the occupation by keeping it financially bearable for Morocco. That's why members of parliament from the UK, New Zealand, Norway, and Japan (!) wrote
an open letter to Gearbulk
urging it to sever its shameful relationship with Morocco. With the
successful campaign against Kerr-McGee
behind them, Western Sahara advocates are hoping that raising awareness of Gearbulk's profiteering will convince the company the game's not worth the phosphate.
Update: There's now an
English version
of the video.