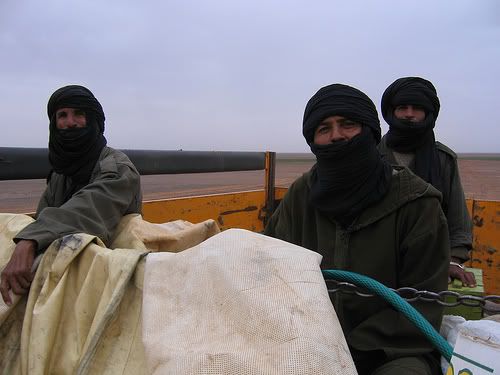 At the
best dinner ever
, a videographer whose name escapes me asked a question I think people more involved in the Western Sahara gloss over, namely, "What's going to happen to all the Moroccans in Western Sahara when it becomes independent?"
It's a question that deserves all of our attentions. After all, the ratio of Moroccans to Sahrawis in Western Sahara is something like __ to ___. Even if all the Sahrawis from the diaspora came back and some Moroccans left, Moroccans would still be in the majority. That majority probably wouldn't be happy about separating from its homeland. The fear of ethnic death squads has been mentioned by others, and I think it's a real one.
Presuming the Moroccans are unhappy with independence, that would leave the Western Saharan government with two options: losing its Sahrawi character and perhaps its independence through democracy, or having an apartheid-like system where only Sahrawis are granted full political rights. Neither are desirable options, and to my mind neither are adequate results after 30 years of exile and war.
There'd be no need to choose between the two if some things took place. A worsening opinion of the Moroccan government would make Moroccans more amenable to a change of government. But Polisario and Sahrawis can't control that, so they should work towards two other goals.
First, Moroccan settlers should be included in any referendum a la Baker II. It's not attractive for Sahrawis, and it's only marginally fairer than autonomy, but if Moroccans don't participate in the vote they won't feel they have a stake in the what comes after.
A more difficult task will be persuaded Moroccans in and outside Western Sahara that an independent Western Sahara is in their best interests. I don't know how that can be done, but it'll take more dialogue with Moroccans and less bitterness on both sides. The UN-sponsored negotiations make Polisario seem more palatable to Moroccans, I think, so at least they're good for that.
Of course, I'm
putting the referendum before voter registration
, as it were. Still, if the Western Sahara is going to be a successful republic, how to integrate Moroccans into a post-independence Western Sahara needs to be considered before and during the referendum process, not after.
What do you think? How can an independent Western Sahara square with its Moroccan citizens?
Photo from Nick Brooks