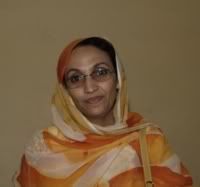 Aminatou Haidar
, an international face for both Sahrawi women and the Western Sahara struggle in general, has been chosen for another prestigious human rights award. This time, she's
receiving
the Silver Rose award, given by the SOLIDAR organization and presented at a dinner of the European Parliament in October.
SOLIDAR is an "an international alliance of social and economic justice non-governmental organisations (NGOs) working in development and humanitarian aid, social policy, social service provision and life-long learning." Haidar was recommended by an Austrian NGO,
Volkshilfe
. Rumor has it Volkshilfe is the coolest thing to come out of Austria since
this man
.
After all her work for Sahrawi independence, Haidar certainly deserves this new accolade. The Norwegian Support Committee for Western Sahara has
SOLIDAR's explanation
for why she was chosen. It's also worth checking out Haidar's
testimony
about the abuse she received in prison.
And to think, I knew her
before she was famous
.