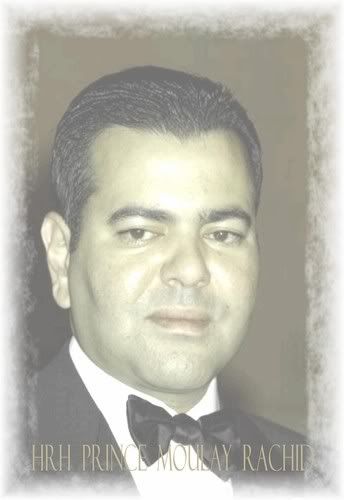 It's not unheard to crush on King Mohammed VI, with his iron will and good looks. His father was a looker, too, as was his grandfather Mohammed V, seen
here
at a Dr. Strangelove costume party. But I never thought anyone would fall head over heels in love with Prince Moulay Rachid, Mohammed VI's brother who isn't even first in line for the throne.
However, after discovering
King of Hearts
I stand corrected. King of Hearts is a blog about the sauciness innate in Morocco's 2nd-in-line prince. The picture at left suggests it's also about the uses and abuses of Photoshop filters.
Yesterday was the good prince's 37th birthday. King of Hearts was
all over it
, naturally. From the post, I learned that His Royal Highness Prince Moulay enjoys golf and "helping small and mid-sized museums." What a
rajul
!
Unfortunately, not everyone is content to let the King of Hearts play golf in mid-sized museums. Wayne Madsen, who wrote
an article
in
Counterpunch
about James Baker's maybe machinations, says Moulay is big pals with
American neo-cons
.
King of Hearts is far from the only blog that wants to dip its chips in some guaca-Moulay. Why are people such big fans? I see there's some talk that he'd be a better king than Mohammed--any idea why? Do you think he'd be more likely to do the right thing about Western Sahara?