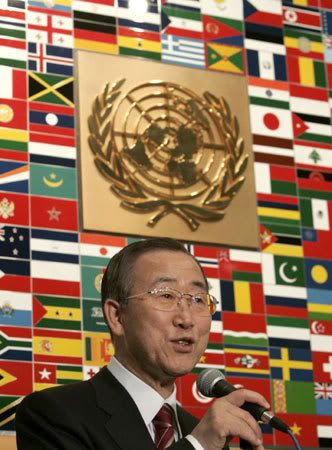 That's the question a lot of people are asking after
this article
from EUX.tv, "the Europe channel." Read some quotes from the article and you should be able to understand why it's so worrisome.
Morocco and the Polisario Front, both of which claim Western Sahara, should

settle their dispute by accepting autonomy of the territory

that was once a Spanish colony, United Nations Secretary General Ban Ki-moon said Thursday...
He also urged the Polisario to accept autonomy and drop the call for independence for the territory.

"If the negotiations are to lead to a positive outcome,

both parties must recognize that the question of sovereignty is, and always has been, the main stumbling block in this dispute

, and it is in this highly sensitive area that a solution will need to be found," he said in a report to the council.

Western Sahara Info
wasn't pleased
, and deservedly so. I have to wonder, though--did this actually happen? The article said Ki-Moon's opinion was presented in a report to the Security Council Thursday. But if that's true, why aren't MAP, MarocPost, and Morocco Board running it? In fact, it's not mentioned on any website besides EUX.
If Ban Ki-Moon has changed the secretary general's traditionally supportive position, it'll be a serious setback but not a fatal one. SADR will be able to find new allies, and news from the territory suggests the people are still with it. Fortunately, the lack of attention this story is getting suggests it won't come to that.