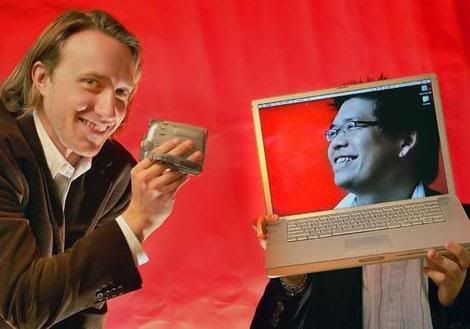 Why does King Mohammed VI hate these two millionaires? I don't know, but he does. From sometime Sunday to today, Youtube was blocked on Morocco's major internet provider, Maroc Telecom, according to
Maghrebism
.
Fortunately, access was restored today. Bloggers are
claiming victory
, and they certainly publicized the blocking. They were helped by
Reporters Without Borders
and the
Associated Press
, both of which wrote pieces about the block. Youtube probably got the ax because of its pro-Western Saharan
independence videos,
some of which are admittedly pretty awesome. Other people cited Islamic revivalist or anti-monarchist sentiments on Youtube as the reason for the ban.
Youtube was joined in Maroc Telecom's
Index Librorum Prohibitorum
by previous inductees Livejournal and Google Earth. Kudos to Taamarbuuta of Morocco Report for
her criticism
of those in Morocco who take a "
What me worry?
" approach to censorship. She also aggregated some of the links I've mentioned here.
The whole affair is odd because only Maroc Telecom customers couldn't reach Youtube. As Netdur
explains
, the smaller ISPs still let people reach Youtube, suggesting that Maroc Telecom was either anticipating a government ruling or acting on its own.
Speaking of censorship, according to
Morocco Report
, One Hump is
one of the few
pro-Western Sahara blogs available in Morocco. I used to think all Blogger accounts had been blocked
long ago
, but Google Analytics metrics told me otherwise. After the United States, this blog is viewed most often in Morocco, with 114 of the 202 visits coming from Rabat.
Thanks to Morocco Report and commenter
Laroussi
for simultaneously tipping me off to the Youtube blocking.
Orangutans for all people, regardless of nation.