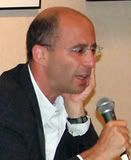 On May 10th, I went to the
Center for American Progress
's panel on the Western Sahara, "
Morocco's Proposal for Western Sahara
." You might say I'm old news with this, but enough people were nice enough to recommend it to me that I'll write about it. If only they had known how boring it would be.
To understand how stultifying it was, consider this: I left before it was over. I've sat through the
Maghreb Symposium
's backscratching just to see Jacques Rousselier tell me what I already knew about Western Sahara, but this was too much even for me.
The panel consisted of Rousselier, MINURSO's former spokesman; Ian Lesser, a commentator on Mediterranean affairs; Claude Salhani, an editor for United Press International; and Robert Malley, the MENA director for International Crisis Group and a former assistant of Sandy Berger's and member of the National Security Council.
Malley (pictured) came out best, and not just because his closest competition was Rousselier (In fairness to
Claude "Great, Big, Bushy Beard" Salhani
, I missed his remarks). He had several dynamite points, not least of which was that Morocco does not support self-determination. He said that doesn't mean the autonomy plan isn't good, but it does mean Morocco should stop pretending that it supports self-determination. He also called for Algeria to stop pretending like it's not an interested party in the Western Sahara.
Here
is a video of his remarks. The rest of the presentation can be seen on the the event's page.
I was disappointed because I didn't see my boys from the
Moroccan-American Center for Policy
. Fortunately, former ambassador to Morocco Edward Gabriel was there in their place to ask asinine questions for dirhams.
He had two comments for Malley, to the effect that self-determination doesn't require a vote (ICJ and the Settlement Plan, not to mention countless UN resolutions notwithstanding). Then he avoided a harsh rebuke from the Malley Mallet and asked Rousselier a softball.
All I'm saying is, Rob Malley for Secretary-General envoy to Western Sahara.