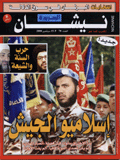 Morocco-watchers will remember the
Nichane
imbroglio well.
Nichane
, the Arabic arm of popular, Tindouf-myth-questioning Francophone
Tel Quel
,
got in trouble
in January for publishing a list of popular Moroccan jokes. My favorite was "I'll take your mother on the hajj."
Moroccan authorities didn't have a favorite, though, and if they did they weren't telling. They gave
Nichane
's editors a 3 year suspended sentence, which I suppose means they aren't going to prison. They also banned
Nichane
from publishing for two months.
Now,
Nichane
is once again available in Morocco.
Or Does It Explode?
reports that
Nichane
is
flying off newstands
. Good for
Nichane
, and if the lawsuit didn't weaken its satirical bite, even the better.