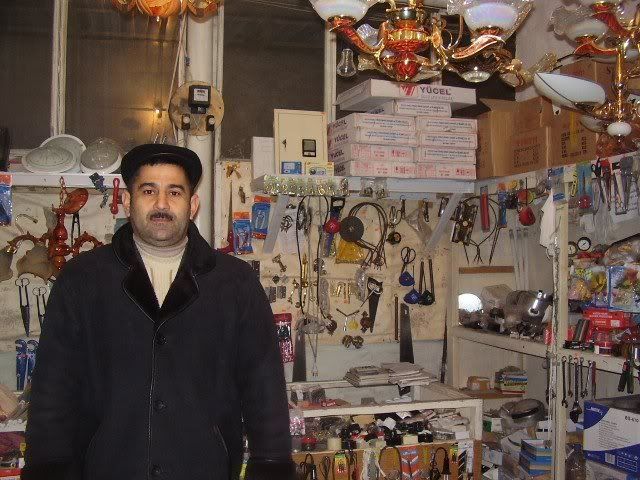 Arzu Aliyev
is a cheerful market vendor in Agsu, Azerbaijan. He's a family man, with three kids and a wife. Arzu is on his way up in the world. Now, through the wonder of the internet, he owes me $25.
Kiva.org
is website that lets people in developing countries use their Paypal accounts or credit cards to lend money to banks overseas, which in turn make microcredit loans to entrepreneurs in developing countries who want to expand their businesses or start new ones.
In Arzu's case, he needs $600 to expand his stock. Using money I made writing for Stop Ahmadinejad, I loaned Azru $25. If everything goes well, I should get paid back in 12 to 16 months.
I've been interested in microcredit loans since I saw
Mohammed Yunus
, the Bangladeshi who popularized the concept, speak at Georgetown. They seem like a good way for small businesses to improve quality of life in poor countries.
Why did I choose Arzu? Two reasons. One, I couldn't find anyone in Algeria, Morocco, Western Sahara, or my beloved DR Congo. Two, I think Arzu looks like a badass who is also responsible with other peoples' money.
Kiva is new and the loans generally take a year to pay back, so there isn't much of a track record to go by, but microcredit loans are usually paid back and
The New York Times
trusts it.
More updates on Arzu when I get them. If he stiffs me, his reputation will be besmirched for all time on the internet. If he gets an expanded product line, though, and pays me back everyone who reads about the Western Sahara will know who to buy from in Agsu.