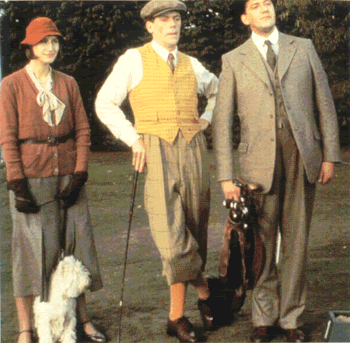 I mentioned
earlier
that I was reading
Western Sahara: Anatomy of a Stalemate
, by Erik Jensen. Jensen ran MINURSO from 1994 to 1998, Chasli of
Western Sahara Endgame
referred me to an article that is less than complimentary about Jensen.
The Referendum that Wasn't And Still Might Be
is by Erik Ruddy, a former MINURSO member and a player in the voter registration process. The article reveals MINURSO's behind-the-scenes politics and is a great read. Ruddy makes a Graham Greene allusion, even.
Ruddy might like Graham Greene, but he doesn't like Erik Jensen:
A delightful mimic of Boutros Ghali and Butcher Basri and Moroccan luminaries, a painter and anthropologist, Jensen was just the person to have visit for the weekend, but the wrong man for the job he was in. Like his U.N. colleague, Margaret Anstee, who botched the elections in Angola, Jensen was just not someone serious politicians took seriously.

Bertie Wooster in a safari suit.

Once I asked him why he didn't protest when Basri had arbitrarily prohibited MINURSO from announcing the referendum in the press, Jensen replied: "He yelled at me. What could I do ?"
Later, Ruddy complains that Jensen acted like Driss Basri's lackey's lackey. I haven't decided yet on Jensen. His book is interesting, and it sounds like the constant Morocco-Polisario bickering would drive anyone crazy.
http://www.arso.org/Ruddy3.htm