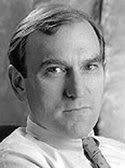 In all of the autonomy plan excitement, you might have forgotten about King Mohammed's favorite henchman in the US government, Elliott Abrams. Fortunately, the
Middle East Institute's
Clayton Swisher didn't.
Swisher wrote an article in
United Press International
about Abrams's role in the autonomy plan presentation. You should read it, but here's what Swisher says.
Moroccans like Elliott Abrams, but no one else in North Africa does.
Abrams is messing around with Western Sahara because he isn't allowed to handle Arab-Israeli affairs anymore.
Everyone is happy to have him out of Israel, so they don't mind if he mucks up Africa's last colony.
He's responsible for some of the praise the autonomy plan is receiving from the State Department.

Here's an earlier post I wrote about
Abrams
, his involvement with Morocco, and his machinations across the world.
Incidentally, is Abrams's "Elliott" spelled with one or two T's? I can't figure it out. Swisher spells it with one t, but Wikipedia uses two.