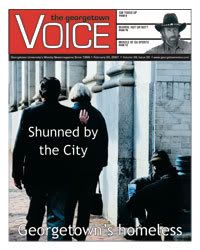 No post yesterday because I was writing for
The Georgetown Voice
about the Western Sahara
. Check it out.
The article features quotes from two Western Sahara muckity-mucks: Mikael Simble of the Norwegian Support Committee for the Western Sahara, and Robert Holley of the Moroccan-American Center for Policy. They were both nice enough to grant me interviews.
The issue is just being distributed on campus now, and we've already received an opposing, well-argued e-mail from someone in Pennsylvania.
The only problem is, of all the maps of North Africa they could've chosen, the editors picked one that erases the line between Western Sahara and Morocco. Still, I appreciate that they let me write about my passion, and I hope it'll raise support on campus and elsewhere for self-determination.