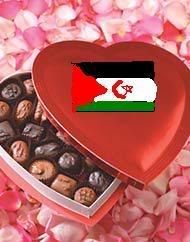 Forget Valentine's Day--the real holiday in February is Western Sahara Independence Day, on February 27th. 31 years ago, the Sahrawi Arab Democratic Republic was founded by Western Saharan fighters and refugees in Bir Lehlou, Western Sahara, a town that remains under Polisario control.
I hope you do something to celebrate the day, because the rest of the SADR calendar isn't particularly fun. In May, there is a day to commemorate Polisario's founding, as well as one for the start of revolution against Spain. After that, though, there's Day of the Disappeared, Day of the Martyrs, and National Unity Day. In other words, if you're looking to wear a turban and drink champagne, Tuesday's the day.
More information as the 27th approaches, including a gift guide. For a good time, call your congressman, send a letter to the Moroccan ambassador, or tell your friends about the Western Sahara. I'm not sure what I'll be doing, but I assure you, flyers will be involved.