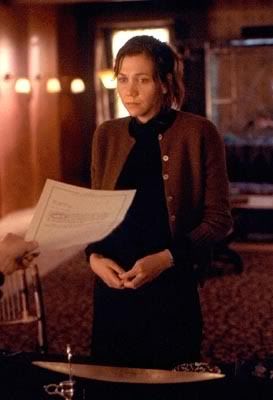 Employees in MINURSO, the United Nations peacekeeping contingent in the Western Sahara and Algeria, are a lovable, ineffective bunch. Last week, everyone went to the lot behind the cafeteria to watch the Pakistani and Bangladeshi observers settle post-partition rivalries with a game of cricket. The Guineans keep to themselves mostly, but they win every spooky story contest.
It's a nice time, but something's missing. Beer cans are piling up, and the bunk beds haven't been made in weeks. Worse, Force Commander Kurt Mosgaard was late to meet with Mohammed Abdelaziz because he couldn't find anyone to tie his tie.
The UN High Command knew barracks need a woman's touch, so they
put in a call
for a personnel clerk ("Women candidates are encouraged to apply"). Kurt, you rascal!
I hate to see MINURSO going understaffed, so as a public service I will expound on the virtues of MINURSO service.
Desert climate helps tuberculosis.
The landmines are getting better.

The Mongolians are doing a killer

My Fair Lady

this fall.
Sounds like a good deal. I've never wanted so badly to be proficient in Excel. The obvious drawback, though, is no
job security
.