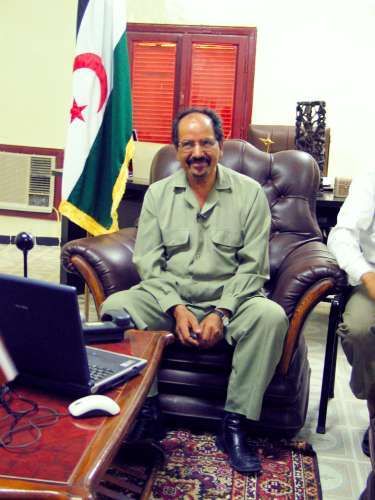 Mohammed Abdelaziz, president of the Sahrawi Arab Democratic Republic and
trickster
, must be working off a wicked spell of jetlag. He's been jetting all over Latin America garnering support for Western Sahara independence, most recently
visiting Ecuador
to visit its leftist president, Rafael Correa.
The countries share a language, a legacy of colonial and Cold War abuse, and Abdelaziz is right to seek support outside of his traditional sub-Saharan African base. His new friends can send a strong international message for a referendum and increased aid for the camps. Abdelaziz is sending the strongest message, though: "I should retire."
Abdelaziz has been president of SADR since 1976. I've found Abdelaziz's interminable presidency, along with the Moroccan POW affair, to be one of the most difficult things about SADR to defend. After all, one of SADR's biggest draws is that it's an Arab democracy. A democracy, say SADR's detractors, can't have the same president for 30 years. There's some truth in what they say.
Still, until now I thought SADR was benefited by Abdelaziz's presidency. He's been with the struggle since the beginning, accruing allies and legitimacy. He seems committed to averting war. Toby Shelley wrote that Hassan II was the only leader from whom Moroccans would accept a diplomatic solution to the Western Sahara. The same may be true of the Sahrawis and Abdelaziz.
This latest diplomatic blitz, though, seems short-sighted at best and self-sabotaging at worst. By buddying up to the lightweight disciples of
chavismo
, Abdelaziz is antagonizing the United States, the country best situated to help his country.
Maybe this is my American exceptionalism writing, but Ecuador, Nicaragua, and even Venezuela can't do anywhere near what the United States can as far as securing self-determination goes. To make things worse, by affiliating himself with these men Abdelaziz lends weight to Moroccan calumnies that he and SADR are Communists.
Mohammed Abdelaziz is a hero to Sahrawis and their allies abroad. His service to the cause has been nearly lifelong, and whatever happens, he certainly won't defect for Moroccan bribes like other Polisario members have. Still, because his reign alienates potential allies and calls into question Sahrawi democracy, Mohammed Abdelaziz should retire.