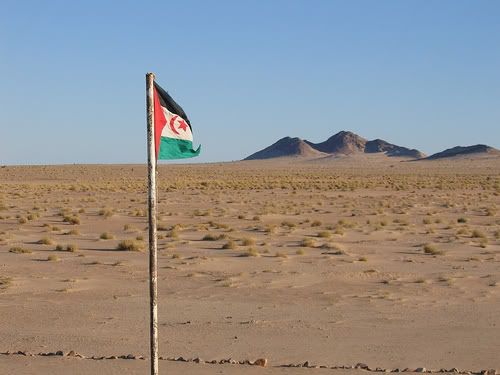 31 years ago today the Sahrawi Arab Democratic Republic was declared in Bir Lehlou. Celebrations are going on inTifariti, SADR's temporary capital inside the Polisario-controlled portion of Western Sahara.
Tifariti is mainly ruins left over from the war with Morocco, but that shouldn't stop Sahrawis and their supporters from having a good time. ARSO
reports
that there will be a marathon, a solidarity conference, and a conference of Sahrawi sister cities.
While it's a happy day, the commemoration must be tinged with foreboding about Western Sahara's future. Human rights abuses inside the territories continue, and France supports the autonomy plan. I don't think the promise of today's celebrations will be fulfilled until they're held in
El Aaiún.

But that's no reason to get down, just a reason to work harder. As my gift to you, here's a link to a generous collection of pictures from the Western Sahara. A group went to the Western Sahara to document the archaeological and paleontological treasures there, and posted the pictures on the internet. For an idea of what Tifariti looks like, check out this ancient tank and these curious standing stones.