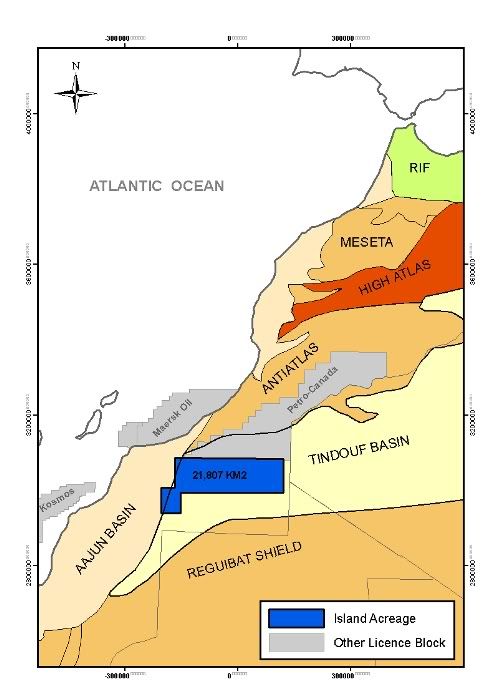 Western Sahara has seemed quiet lately, but there's a new threat to a fair referendum. On December 12th Island Oil & Gas, an Irish petroleum company, contracted with Morocco for an illegal exploration
license
in the Western Sahara. This move represents another step in the exploitation of Western Saharan natural resources.
There are three problems with this license. First, it's a dangerous sanctification of Moroccan sovereignty. No country in the world has recognized Western Sahara as a Moroccan province because of the occupation's shaky basis in international law, but corporations like Island Oil & Gas have no such qualms.
Moroccans say, "The Turks stopped in Algiers, and so did the oil." As the only Maghreb country without oil besides the Western Sahara, Morocco is intent on finding oil reserves of its own. If Island or its colleagues find natural gas or oil in the Western Sahara, Morocco will tighten its grip on the Western Sahara.
Finally, the license represents exploitation of resources that legally and morally belong to the Sahrawi people. Even if oil isn't discovered, the reconnaissance licenses are the property of the Sahrawi and their representatives in SADR. The money from these licenses could make life better for marginalized people in the territories or in the camps. Instead, it'll end up in Rabat.
The last time oil exploration licenses were in the news with Western Sahara, French company TotalFinaElf and American company Kerr-McGee had received cushy reconnaissance deals from the Moroccan government. After strong pressure from Sahrawi and international groups, Kerr-McGee canceled its license.
If enough people contact Island, they'll recognize the game isn't worth the (petrol) candle. If they do, there's a
Golden Camel
with their name on it.
Western Sahara Resource Watch has published an
open letter
to Island about the license's illegality and the disadvantages Island faces if it pursues reconnaissance.
Map from
Island Oil and Gas
. Island's grant is in blue.