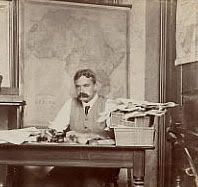 Last March I read
King Leopold's Ghost
, a book about Belgium's ruinous colonization of the Congo. Belgium's King Leopold ran the vast territory as his private rubber and ivory farm, exploiting its environment and directly or indirectly causing 10 million deaths. For years the king and his agents operated under a mandate granted at the Berlin Conference (also where the Western Sahara was given to Spain), and no one thought to investigate the king's rule.
E.D. Morel
changed that. Morel was a low-level shipping manager employed by a British company that handled some of Leopold's shipping to the Congo. Stationed in Belgium, Morel began to notice that his country's boats carried only rifles and ammunition to the colony, but returned loaded with ivory. He realized slavery was the only explanation for the trade imbalance. Soon after his epiphany, Morel quit his job and returned to England to start the Congo Reform Association in 1900.
With the help of Irish independence fighter Roger Casement, Morel win support for his campaign from politicians, churchmen, and ordinary people on both sides of the Atlantic. In 1908, partly because of Morel's efforts, Leopold was forced to give Congo to Belgium.
E.D. Morel is important to me because he shows what one man can do about a tremendous evil. When Morel began the Congo Reform Association few people outside of the Congo knew the horrors of Leopold's administration. By the end of the campaign, however, ending abuses in Leopold's fiefdom had become one of the most urgent human rights causes of its time. E.D. Morel demonstrates the success the Western Sahara can achieve if we organize, appeal to a wide range of people, and work tirelessly.