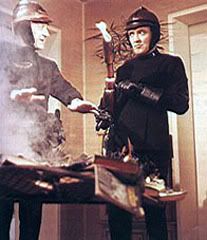 Shucks. Like any good Western Sahara fan, I lust for a legitimacy only Morocco can give: blocking my blog. All sorts of other websites have been given that distinction. I figured I'd have to start writing in Arabic or French, but it seems even that won't get me blocked anymore. This was on ARSO's news page:

The censorship of Internet sites judged hostile to the interests of Morocco is becoming more common. After the sites supporting the Polisario, it is certain free servers which are being blocked partially or totally.

The last to date : the name of the domain "blogspot.com"

, which harbours several Moroccan blogs ... and a Saharawi blog particularly virulent against the kingdom. Censorship continues likewise to hit the geographical search program Google Earth.
Fiddlesticks. A blanket block is no fun. There is an upside, though: apparently the Moroccan government is so afraid that its lies will be exposed, it even blocks websites with as little inherent credibility as free blogs.