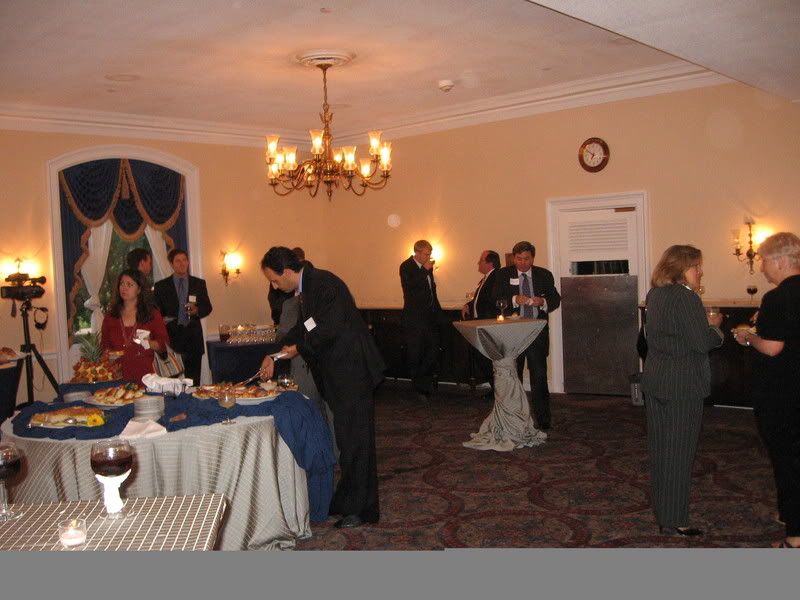 The strawberries were
delicious
.
Certain Sahrawis are getting antsy for a recap and pictures from the Aminatou Haidar reception. They point out that I've
promised
them
repeatedly
, and it's been over two months. I say, "Seriously, guys, I was having camera problems." But they'll hear nothing of it.
Background: last September, the US-Western Sahara Foundation invited me to a reception they were holding for Sahrawi civil rights activist (and Amnesty prisoner of conscience) Aminatou Haidar. It was in a congressional office building, which made it even more delicious.
Deep in the bowels of the Rayburn office building, the reception was swinging when I arrived. The open bar didn't have alcohol, I think, but that was more than OK because of the SADR-American flag stickers (which will reappear on Western Sahara Day).
I met some lovely Western Sahara supporters, including Mikael Simble, the Washington representative of the Norwegian-Western Sahara Committee.
Suzanne Scholte, head of the Defense Forum Foundation and (along with Carlos Wilson) the US-Western Sahara Foundation, introduced Aminatou Haidar. She said that now, with tension between the Islamic world and the West is high, it was heartening to see "Muslims who represent so many good things."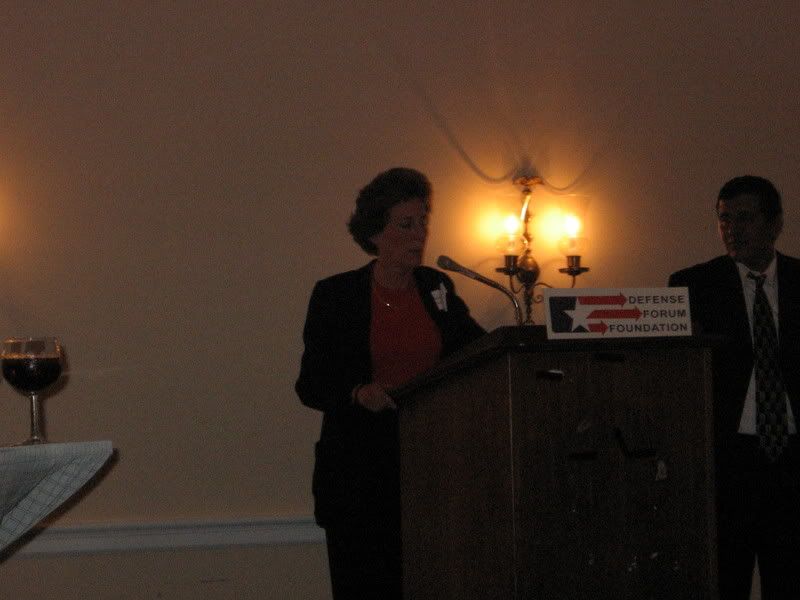 Suzanne introduces Haidar, while a wine glass waits for its turn.
Aminatou Haidar gave an excellent speech about the need for US-Sahrawi cooperation if Sahrawi rights are to be protected. She said the United States should ask Morocco to respect human rights in the Western Sahara, and said Morocco has installed an "overwhelming police apparatus" to stifle dissent.
"It's time to put an end to this injustice against the Sahrawi people," she said in closing.
Aminatou Haidar and her translator.
After that, Congressman Donald Payne (D-NJ), who recently signed the
letter
supporting Aminatou Haidar, presented her with the 2006 Freedom Award.
"I am very inspired by your courage and your heroism. If people are oppressed everywhere, then people can be oppressed anywhere," he told Haidar. He also made a parallel to the Western Sahara and the South African colonization of Namibia, which I thought was astute.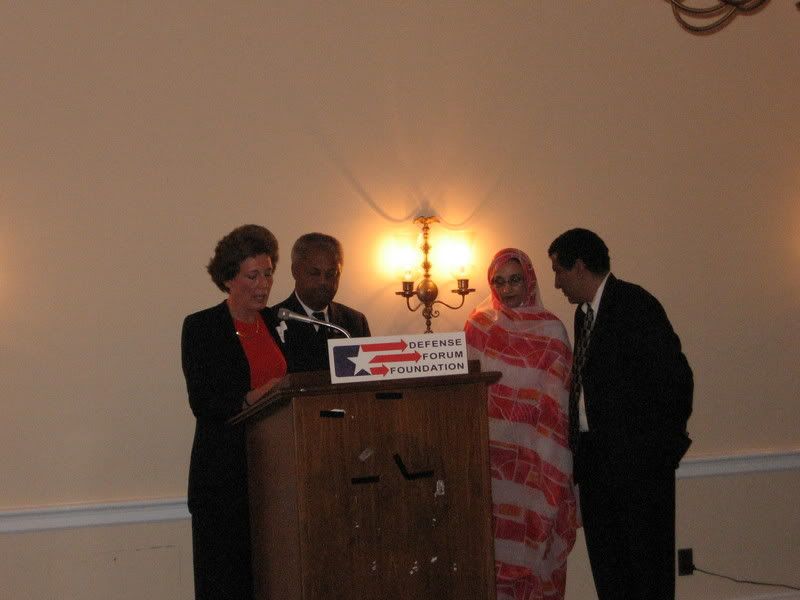 Congressman Payne presenting the Freedom Award.
After that, it was a picture fest!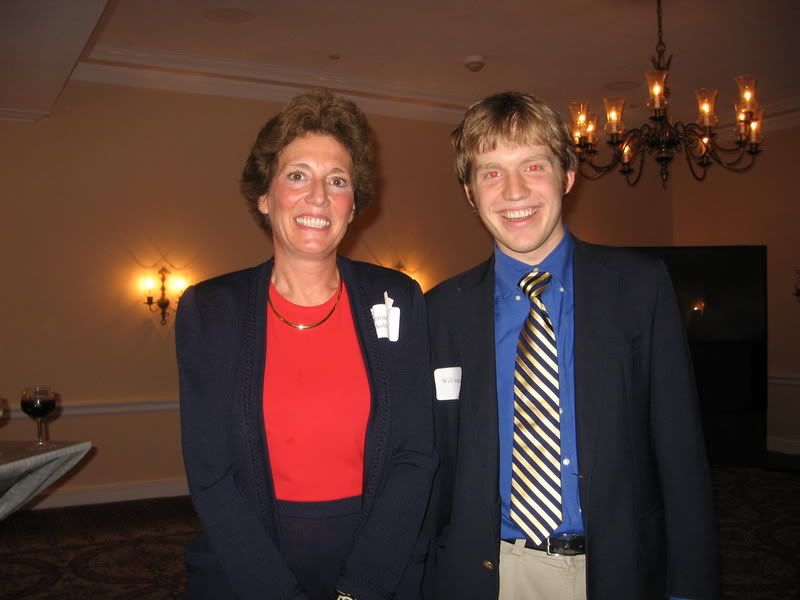 Suzanne Scholte and I. Classy lady, and not just because she has her nametag on the correct side of her jacket, which is more than I can say for my nametag. I like my tie.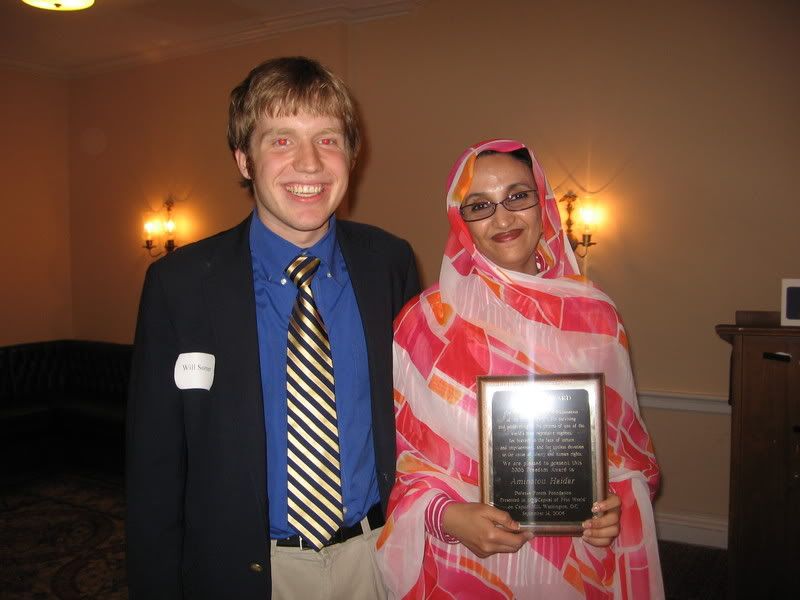 Aminatou Haidar shows off her Freedom Award. She said she wouldn't run for president of Polisario (sorry, Sahara-Watch). I was disappointed too, but she was nice, and didn't even mention my red devil eyes.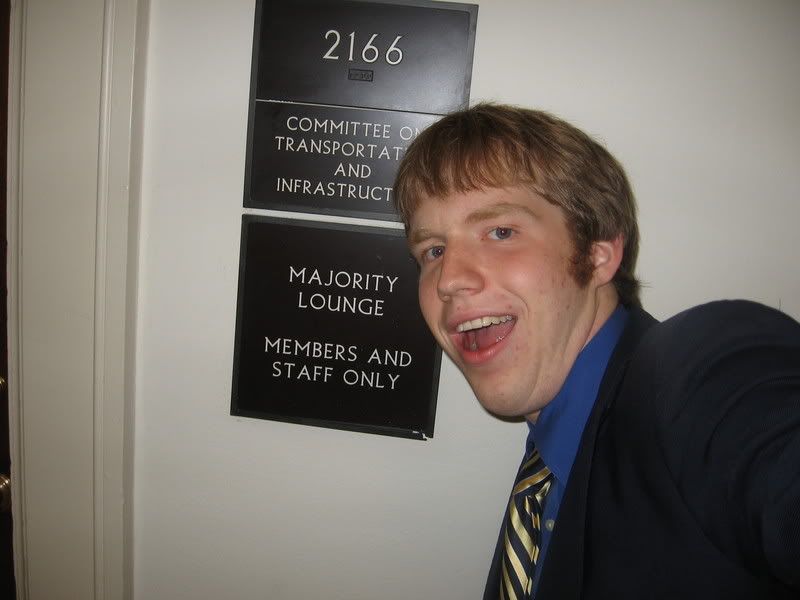 I couldn't stay too long, because I had to get to a party in Rayburn's Boom Boom Room.
McDonald's is old school, and besides, the strawberries weren't that filling.
Hurray for Defense Forum for inviting me and holding an excellent event, and hurray for the nice like-minded people I met. Most of all, thanks to Aminatou Haidar for traveling so far and risking reprisals from the Moroccan government to tell us about the Western Sahara.